The SOS function of your ZOLEO device should only be activated in the event of an emergency. If you have a need to test your ZOLEO device's SOS functionality please see Can I Test an SOS Alert
For information on how to declare or cancel an SOS alert from your device see Sending a SOS Alert or Canceling a SOS Alert
Note: The ZOLEO app is NOT required to use the SOS function, although without it there is no ability to communicate with the Emergency Response Partner via the app to coordinate the rescue (see below)
ZOLEO's industry-leading Progressive SOS feature will guide users and provide detailed updates every step of the way. Follow the instructions on screen and communicate with the Emergency Response Partner in order to coordinate an effective emergency response.
When an SOS is declared from your ZOLEO device this will result in two separate but related actions. One action will be an automatic notification to the account holder's email address on file. This notification will include the device owner name and device name provided for the device, a timestamp, and location for the SOS declaration, and will advise that our emergency response coordination partner has also been notified of the emergency.
Note:
If the app is connected, it will attempt to pull the location from the mobile device GPS for the best possible accuracy. If it is not available, it will send the location from the ZOLEO device

If the location can not be found, the SOS process continues
The second action is an escalation to the emergency response partner, which is on standby 24 hours a day, 365 days a year. Once notified of an SOS, the emergency response partner will attempt to reach the device user via the ZOLEO device. The device user will be able to message back and forth with them to provide information about their emergency and get updates regarding the rescue. Note, if the emergency response partner is unable to reach the device user they will still escalate the event to emergency services.
The emergency response partner will also call the SOS Contacts for the ZOLEO device (in no particular order) and will advise the first contact they can reach of the SOS event. They will also gather any relevant information the SOS Contact may have regarding the device user.
The emergency response partner will use the information collected in the manner above to inform the response to the SOS and contact local emergency services in the area of the device to coordinate a rescue. The emergency response partner will continue working with these emergency services through the course of the rescue to provide updates if the device user's location or status changes. The emergency response partner will stay active with the SOS response until the rescue is complete, or the SOS is canceled.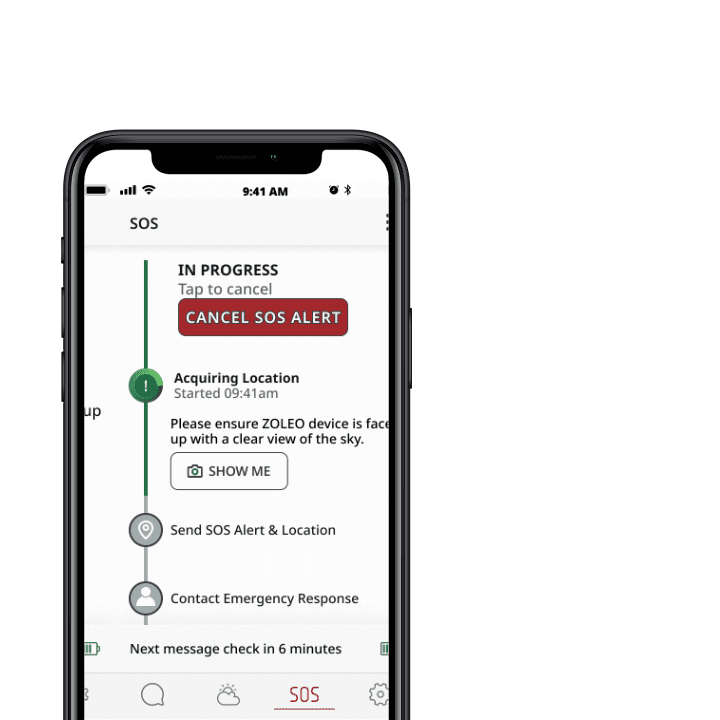 When an SOS is active, an SOS banner appears across all pages in the app so the user can quickly and easily hop back into the SOS screen (to view any updates and/or chat with the Response Agent)
Note: The Emergency Response Provider completes their SOS protocol even if:
There is no interaction with the Response Agent Chat

The ZOLEO Device and App become disconnected (Bluetooth pairing)

The mobile device the ZOLEO app is being used on dies