This article reviews how to activate your ZOLEO Device if you are using a phone or tablet (mobile) version of our website, and it includes screenshots. Please note the Articles in this Section for other activation-based articles.
Access to Internet on your mobile device
Use Chrome browser app, or Safari on iOS (most recent version)
Your credit card information
Emergency Contact information for two people including name, email address, and phone number
Takes about 15 minutes to complete
Outcome of your activation:
Your ZOLEO device will have service active within 30 minutes of finalizing
You will have your two SOS contacts set up, and one Check-In contact
Your billing date matches the date of activation, your first invoice will be created and it includes the activation fee and the plan charge for the upcoming billing period
How to activate your ZOLEO service on a ZOLEO device
Charge your device first. If you like, you can wait until you see the device is charged before proceeding to activate. Here's more information on charging your ZOLEO.
Go to www.zoleo.com/activate and you will be prompted to create your account or sign in. Once you're signed in, it will land you on the Add Device page below.
Once you've created your account, you will be on the Add Device page shown in the video below.
Add Device - Complete the information by entering the following:

IMEI of the device
Serial Number
Nickname – this is the device's name, and you can make this whatever you'd like
ZOLEO Email address – this is where you select the name before the @zoleo.com email associated with your device (i.e. patrick, which will become "patrick@zoleo.com").
The ZOLEO SMS number will be based on your region, just make sure it states the correct country here.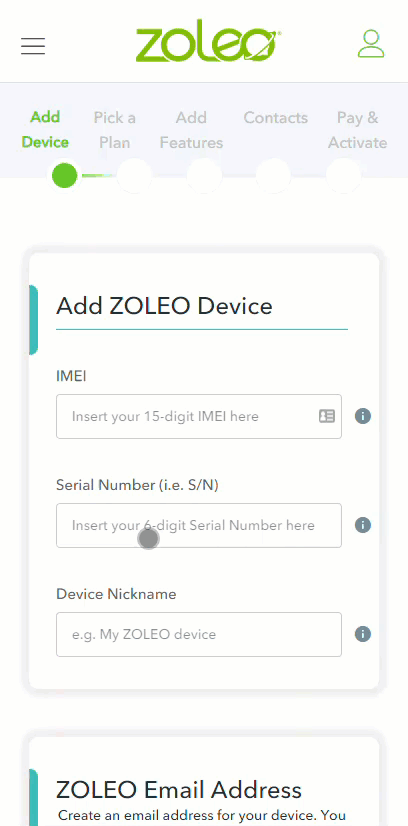 Now you must pick a plan – simply pick the plan you hope to activate on. Here's a link to view our plans.

Once you click on a plan, a prompt will show up to accept our terms and conditions (above).
Review the terms and conditions, and if you agree select the checkbox next to "I accept…" and hit "Accept" to return to the plan page with your selected plan now with a solid border around it. Scroll down and hit "Next" to proceed.

Add Location Share+ Feature – scroll down, and if you'd like to have the Location Share+ feature add-on to your account you can add it here. The default is it is set to skip, make your selection and hit next. Here's more information on what the LS+ feature is.
Add your first Contacts – you'll need to select SOS contacts and a first Check-In contact to start. Please note the following:

We recommend you do not use yourself as an SOS contact. This contact is an emergency contact and should be set to someone who can be reached if an SOS event is triggered.
Be sure to have right email and number for your contacts
If you're using an SOS contact also as your first Check-in Contact, you do not need to re-enter their information, simply start typing their name until the drop down shows their information and select it to fill the fields. We show how this appears below.
You will need to select the contact method type only for the Check-In, this is how they will receive your Check-In messages.



Payment and activation - Complete "Payment Information" to set up payment:


Street Address (or Box goes here)
City
State/Province
Zip/Postal Code
Phone number

Hit "Save Address," it will turn Green once you've completed the address information.

You'll know this is completed when the address you entered shows up under the information with an "Edit" button under it. If you need to change your address, you can do so by hitting "Edit."

Complete the Credit Card information and be sure to hit the "I'm not a robot" captcha at the bottom.

Go to Place Order button to finish this. Please note you can review your order details. Scroll down past the Place Order button to see it below.
NOTE: No payment will go through at the time of activation. You will receive an invoice email notification shortly, and it will be considered due 3 days after your billing date. Then your payment will be pulled according to our payment schedule.